To better educate oneself before dropping several thousand dollars on a new set of all-terrain tires, we've compiled a list highlighting the pros and cons of five popular tires available for the Jeep JK. Consult this source for information on wet weather ability, sidewall strength, pricing, road noise, performance in snow and outright grip.By Thomas Parry – December 9, 2015
This article applies to the Jeep Wrangler JK (2007-Present).
As most JK owners browsing these forums have entertained the idea of taking their Jeep off-road, we've decided to compose a list which details five popular tires designed for a bit of fun off the paved road. We understand that these tires will be used, in most cases, on the road as well, so we've considered the everyday usability of these models as well as their wet weather performance, effectiveness in snow or mud, price and livability. All this information has been sourced from consumers and enthusiasts to be as objective as possible.
Popular JK All-Terrain Tires
Goodyear DuraTrac
BFG T/A K02
Yokohama Geolandar
General Grabber AT2
BFG KM2
Wet Performance
Good wet weather performance
Decent grip in the wet
Not good in the mud
Works well in rain
Fair
Off-Road Performance
Good in cold weather, snow
Not as good in cold weather (though capable), ideal for hotter weather
Good grip in dirt and sand
Works well on gravel, mud
Works decently on rocks on mud
Noise
Moderate levels of road noise; reasonably quiet
Quieter than Goodyear DuraTrac
Fairly quiet
Very quiet
Moderately quiet
Mileage
60,000+
55,000+
30,000+
45,000+
40,000+
Best Quality: BFG T/A K02

Best Value: BFG KM2
Goodyear DuraTrac
Price – $1,350
Wet Performance – Excellent
Off-Road Performance – Good in cold weather and snow
Noise – Moderate
Mileage – 60,000-75,000 miles
A popular tire, available in 33″ size for the Wrangler, is the Goodyear tires and are excellent for the daily driven Jeep. They offer superior performance in cold, snowy conditions, while providing excellent wear characteristics. Many poster on the forums advise that their lifespan is in excess of 60,000 miles. Recommended for those willing to pay a price premium for an excellent all rounder tire with good street manners.
BFG T/A K02
Price – $1,500
Wet Performance – Decent
Off-Road Performance – Ideal for hot, dry climates
Noise – Quieter than the Goodyear
Mileage – 55,000+
The BFG all-terrain tire has long been the go to tire for Jeepers everywhere. Due to the tread design, the BFG really shine in the sand and dry rock climbing elements typical of places in the Western United States. If you play with your toys in the sandbox, then the BFG is the tire for you. Recommended for those who live in dry, warm climates.
Yokohama Geolandar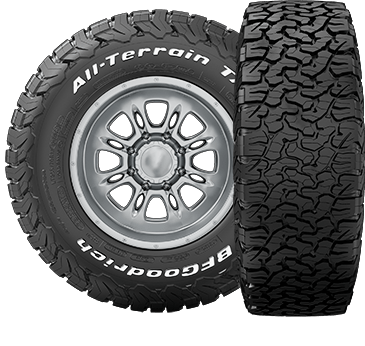 Price – $1,200
Wet Performance – Not good in muddy conditions
Off-Road Performance – Good performance in the sand and on dirt trails
Noise – Fairly quiet
Mileage – 30,000+
With one of the least aggressive tread designs in this comparison, the Yokohama is aimed squarely at the Jeep owner who sees mainly on-road miles and wants a more comfortable ride. The tread design also has the benefit of low noise and vibration versus a more rugged tire. That said, the Geolandar still offers all-terrain performance, though it is geared more towards water or sand versus more hardcore rock crawling. Recommended for those who want a comfortable street tire.
General Grabber AT2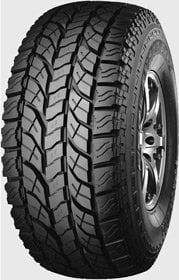 Price – $1,350
Wet Performance – Works well in the rain
Off-Road Performance – Good in gravel and mud
Noise – Very quiet
Mileage – 45,000+
The Generals are a tire that are mid-pack in price, but with a unique selling proposition. While the sidewalls are quite stiff, the actual tread block is super softer in composition than the other tires here, which results in a quiet, creamy ride quality. Additionally, the soft compound combined with the specific tread block design makes it very adapt at both channeling rain or snow, as well as being able to easily fling gravel or mud from the tread blocks, resulting in superior performance. Recommended for those who want great performance and a quieter ride.
BFG KM2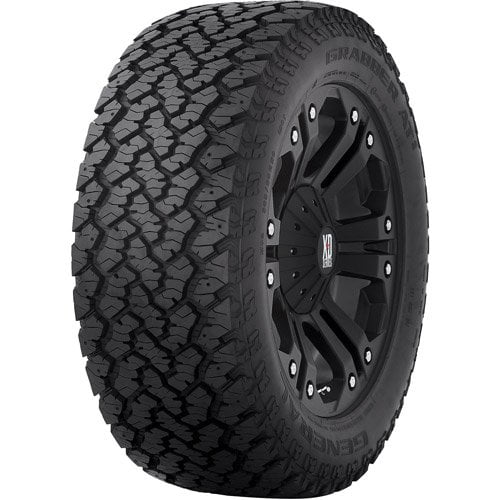 Price – $1,250
Wet Performance – Fair
Off-Road Performance – Decent on rocks and gravel.=
Noise – Moderate
Mileage – 45,000+
With its more aggressive tread design, it's no surprise that these BFG tires excel when it's time for more serious rock crawling. The large tread blocks are good at sticking to the rocky stuff, and easily moving through the muddy stuff. Coming in on the lower end of the price spectrum, they can be forgiven for their noisier driving characteristics. Recommended for those who are willing to trade off a harsher ride for increased off-road capability.
Related Discussions