The Jeep Wrangler JK offers a mix of classic Jeep features and components with a unique attitude. The SUV is a favorite among off-road enthusiasts, but it also makes an excellent daily driver.By Kate Halse – December 3, 2015
Contributors: JeepaRoo
This article applies to the Jeep Wrangler JK (2007-Present).
The Jeep Wrangler JK was first introduced to the market in 2007. The SUV, available as a two or four-door vehicle, was a product of the new Chrysler Daimler relationship. As with most Jeeps, the Wrangler JK is a popular choice for off-road enthusiasts. When it was first introduced to the market, the Jeep had trademark features such as the Wrangler's traditional round lights and multi-slot grille. Whether you're considering purchasing a new or used Wrangler JK, you'll want to read on to find out more about this Jeep vehicle.
Component Breakdown
Engine and Transmission
The Jeep Wrangler JK comes with three distinct engines. The first, a 2.8L VM Motori 428 diesel, is a four-cylinder engine. Subsequent options include the 3.6L Pentastar V6 and the 3.8L EGH V6. Many of the 2007 to 2011 JK models have a four-speed 42RLE automatic transmission. Other transmissions may include the five-speed W5A580 automatic transmission, five-speed 545RFE automatic transmission, and the NSG370 manual transmission.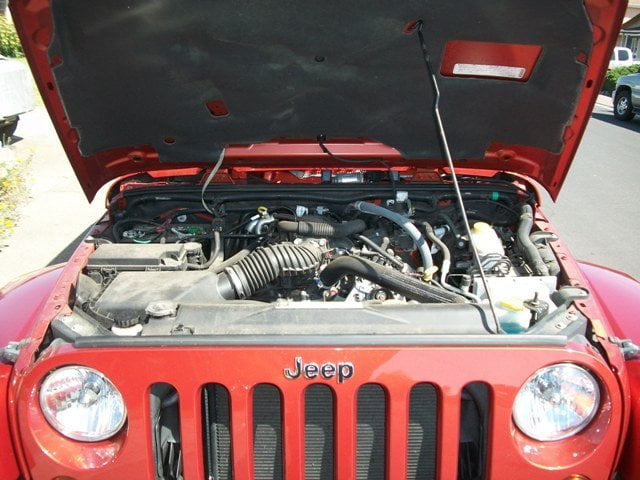 Figure 1. JK engine bay.
It's worth noting that some JK owners, particularly those with 2012 models, have experienced transmission issues. A service bulletin has been issues for the 2012 JK and a handful of other Jeep models. The fix generally involves correcting any diagnostic trouble codes and calibration improvements for the transmission control module. More information about the service bulletin can be found here. If you're looking at a used 2012 JK or already own one, it's a good idea to ensure that this issue was repaired if the vehicle showed signs of transmission problems.
Model Years
The JK is still in production. It was first introduced to the market in 2007 and has undergone a variety of changes and upgrades since then. If you're considering purchasing a used JK, you're probably interested in finding a model that matches your expectations (and budget). As with most vehicles, the first JKs had a few issues and quirks, especially the 2007 model. At least one Jeep owner notes that electric issues were relatively common among 2007 and 2008 JKs; although, they were largely smoothed out starting in 2009.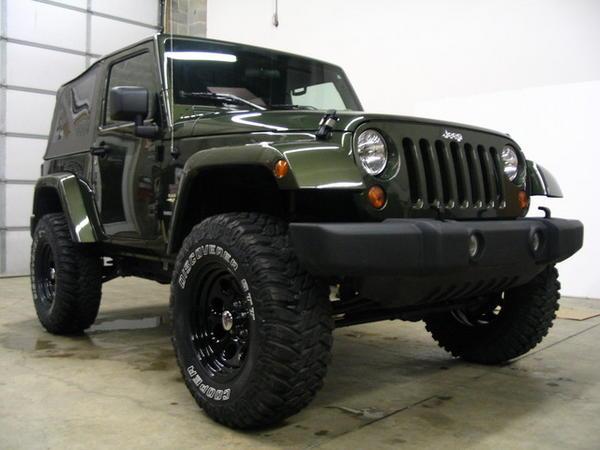 Figure 2. 2007 Wrangler JK Sahara.
Trim Levels
There are a number of available trims to choose from. For example, the Sport, or base model, is a two-door vehicle with just the basics. The X-S, renamed the Sport S in 2009, has features such as standard air conditioning, an optional premium sound system, and optional power door locks as well as windows. The Sahara is the luxury-oriented model with a multi-speaker sound system and power windows. The Rubicon is the off-road model with 17-inch wheels and aggressive tire tread.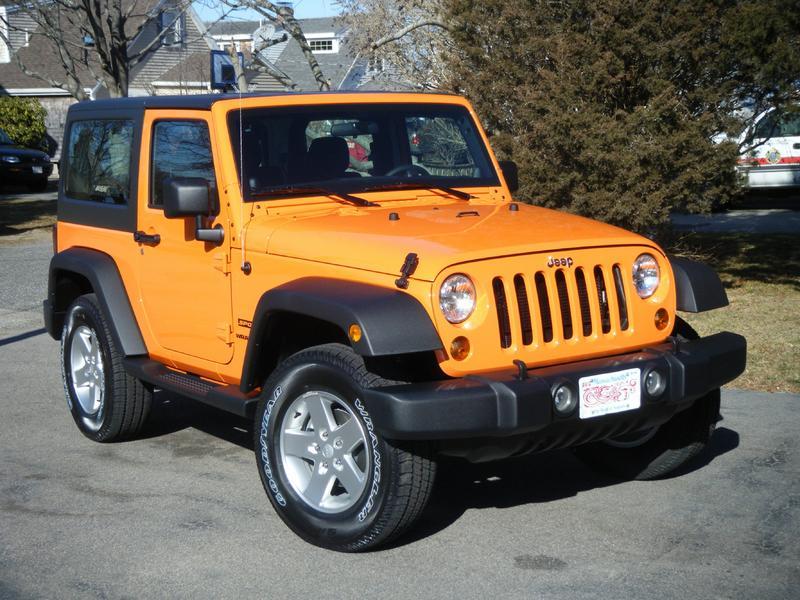 Figure 3. 2012 JK Sport S.
Scheduled Maintenance
The exact oil change interval will depend on your specific vehicle and driving habits. Depending on the model year, your owner's manual may recommend an oil change every 5,000 to 8,000 miles. However, if you frequently use your Jeep in extreme conditions or for off-road adventures, you'll want to change your oil more frequently than the manual suggests. Many Jeep owners change their JKs oil between 3,500 and 5,000 miles.
Related Discussions