Any subwoofer is better than no subwoofer, that's for sure. To really rattle your Wrangler, you need a subwoofer upgrade in just the right spot. Read on to learn about your subwoofer installation options.By Ben Mannino – November 19, 2015
This article applies to the Jeep Wrangler JK (2007-present).
Nothing beats the deep rich sound and awesome thump of a powerful subwoofer, especially in a Jeep Wrangler. The only thing better than riding with the top down is doing it with the stereo blasting and the bass booming. The factory subwoofer is certainly a step up from none, but it just doesn't do the Jeep justice. You have plenty of options in the aftermarket, and you can get really creative with the subwoofer placement for maximum effect. Let's take a look at a few interesting ways to pump up the jam in your Wrangler.
Achieving Maximum Sound in Minimal Space
The stock subwoofer location in a JK is in the passenger side of the cargo area. It's relatively small and unassuming, but the sound leaves a lot to be desired. You can certainly upgrade the stock sub using the same enclosure, but since you are upgrading anyway, why not consider some other locations? The first is an under-the-seat installation which can either be done to the driver, passenger or reat seat. For maximum bass in maximum space, you can't beat the full-sized sub box that sits on the floor of the cargo area. Finally, the tail gate enclosure offers a great sounding option in a small amount of real estate. Let's take a closer look at all three options.
The Under-Seat Sub
DIY Cost – $150 – $300
Professional Cost – $300 – $500
Skill Level – Moderate; Involves some seat modification and wiring.
Your seats serve one main purpose: to keep you comfortably seated as you operate your vehicle. The space under your seat is mainly used to store stale fries and loose change. How about a better usage?
The under-seat subwoofer allows you to increase your bass output while not having to give up precious cargo space. There are several aftermarket models already in an enclosure that slide right under the seat. Hardcore bass enthusiasts can even build a custom wooden enclosure to house the subwoofer and deliver the bass level that only wood can. Depending on the sub size and quality, this option can run you as little as $100 or as much as $500 with a custom enclosure.
The Subwoofer Box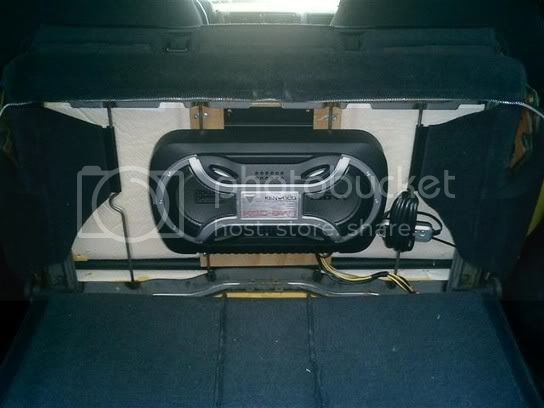 DIY Cost – $250 – $600
Professional Cost – $500 – $1,000
Skill Level – Easy; Sub boxes drop in the cargo area with some basic wiring needed.
When the bass in a passing vehicle rattles your windows, a sub box is most likely the culprit. These are the rectangular boxes built to house two larger-sized (10 -12″) subwoofers and an amplifier. A wooden enclosure will produce the best bass, but there are custom designs built using fiberglass or other materials.
Amplifiers are needed to power the larger subs, and the sound is tough to beat. The downside of all that power is you have to sacrifice real estate to get it. Two 12″ subwoofers in a custom wooden enclosure can take up most of your rear cargo area. They will also drop the hammer on your wallet; custom boxes can run as high as $1,000.
The Tailgate Sub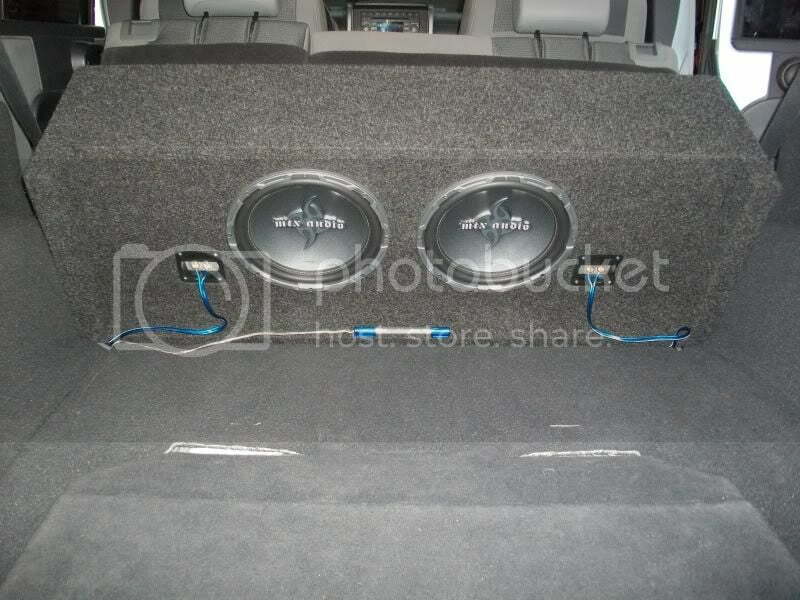 DIY Cost – $250 – $400
Professional Cost – $500 -$700
Skill Level – Difficult; Involves custom construction and wiring.
One of the coolest options is the tailgate subwoofer. It combines the power of the sub box with the space-saving benefits of the under-seat sub. You can get really creative here with a single larger subwoofer as shown above, or two smaller ones. In any case, you're looking at a custom-built enclosure with more involved wiring; this is not a job for a novice. If you're looking to fill your Jeep with rich bass and still leave room for your gear, the tailgate sub is tough to beat.
Related Discussion