There are various modifications that you can do to the suspension of your JK. Here are some ideas.By Jeffrey Smith – December 7, 2015
This article applies to the Jeep Wrangler JK (2007-Present).
If you are looking to make some modifications to your JK suspension, you have many choices out there. From adjustable control arms to lift kits and track bars, the choices are nearly endless with a myriad of aftermarket contenders looking for your business. How do you know which system is right for you? For starters, you need to know exactly what you want to achieve; are you looking for a slight lift, a rake, or just a beefier suspension for flexing over the rocks? Do you just want to sit tall in the saddle running down the pavement? Having some idea of what you wish to achieve goes a long way with limiting your choices over and above what your pocketbook will allow. Most modifications can be done in your own garage with a little know-how, which can further lesson the cost and possibly open up some more options for you.
Jeep JK Suspension Modifications
When modifying your suspension, you have many options available. With longer springs as found in a lift kit, you can really raise up your Jeep to give it that classic rugged look perfect for rock hopping or just riding high down the pavement. For a smoother ride, or more durable suspension for climbing, you may opt for some heavy duty shock absorbers. If you are just looking for more responsive steering or better handling capabilities, look no further than adjustable control arms or track bar upgrades. With so many choices, it may be hard to make that decision. Here are a few of the many options out the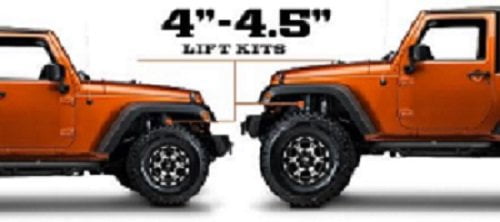 Figure 1. Before and after lift.
Off-Road Heavy Duty Lifts
DIY Cost – $500
DIY Time – 3-4 hours
Professional Cost – $800 and up
Skill Level – Moderate; will take a weekend to install.
The Rough Country brand 4″ lift is a popular choice among JK owners. It's moderate cost makes this a truly affordable DIY job if you have the time. The long springs included in these kits give you a much taller ride and wheel well clearance to allow for a much bigger tire, if that was something that you were looking to do as well. The Skyjacker 4″ kit is another popular choice, but it will set you back closer to $800, and for the ultimate setup, the Rock Jock will give you 4″ inches of high performance off road lift for about $2,500. Recommended for drivers who want to lift their JK.
Shock Absorbers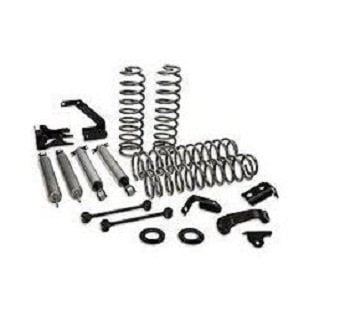 DIY Cost – About $250
DIY Time – 45-75 minutes
Professional Cost – $400 and up
Skill Level – Moderately easy; this is a real affordable option to modifying your JK.
Heavy duty shock absorbers are a great way to enhance the feel of your ride and give you a little better option for off-roading. The heavy duty shocks will allow for more aggressive handling over rough terrain, or make your daily drive a lot smoother, especially if you have some really rough roads to cover on your way to the office. Recommended for drivers who want better handling during off-roading.
Adjustable Control Arms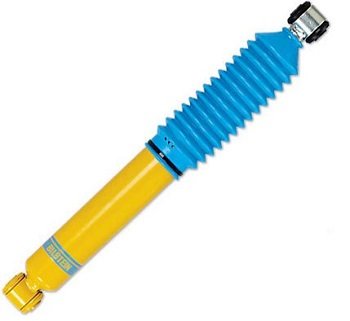 DIY Cost – $180
DIY Time – 75-90 minutes
Professional Cost – $300 and up
Skill Level – Easy; it doesn't need special tools, but additional modifications may be necessary.
Adjustable control arms will allow you to spread your axles out a little, especially in the rear. This longer wheel base will give you a much smoother ride, as well as allow a lot more flexibility and stability in your off-road adventures. The low cost of this DIY job will only take a few hours and will make a huge difference. There are other modifications you will need to take into consideration, especially with rear adjustable control arms, such as relocating the sway bar to prevent it from hitting the springs and the addition of spring wedges to correct the bowing when the axle is moved back. Recommended for drivers who want a smoother ride.
Track Bar Modifications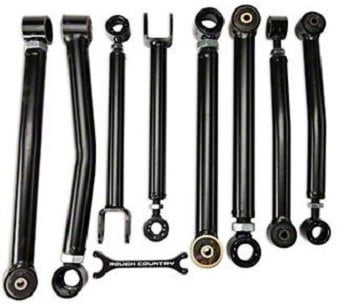 DIY Cost – $250
DIY Time – 60-75 minutes
Professional Cost – Starting around $500
Skill Level – Easy; it doesn't require special tools.
An upgraded front adjustable track bar is almost always recommended when a lift kit is installed on the JK. It is well documented that the stock track bar is fine, but the mounting points and welds are suspect with the additional stress placed on them. There are two highly recommended brands, JKS and Teraflex Monster. You can't go wrong with either, but the Teraflex is truly adjustable and very beefy for the serious rock hopper. Recommended for drivers who will install a lift kit.
Related Discussions