Everyone wants to modify their Jeep Wrangler, but no one wants to spend the money. This guide will shine some light on some inexpensive modifications.By Bassem Girgis – November 11, 2015
This article applies to the Jeep Wrangler JK (2007-present).
Modifying the Jeep Wrangler is an endless cycle. You can spend $50 to make it look different, or you can invest thousands upon thousands of dollars to make it unique. Every Jeep owner would love to modify their Wrangler completely, unfortunately, modifications can be rather costly. Just like there are a lot of expensive modifications, there are also cheaper ones that can change the looks of your Jeep. We did the research, and this guide will shine some light on some of the inexpensive modifications that can make your Jeep look different from the ones you see on the road.
Inexpensive Modifications
LED Lights
DIY Cost – $50
Professional Cost – $80-1,000
Skill Level – Easy; this job requires simple bulb swapping.
Nothing says unique like a different night presence. A simple LED bulb swapping will give your Wrangler a whole different look among other Jeeps. The most common LED color is blue or white, which not only gives the car a special look, it also shines a lot brighter. This is a great modification if you like to go off-roading. The good LED bulbs have been known to be 30% brighter than the stock, while lasting a few years longer. These bulbs will make nightly off-roading feel a lot safer, which will allow you to enjoy more and worry less. Unlike HID, the LED bulbs are a direct replacement. This means you just need to twist the factor bulb to remove, remove the electrical harness, and install the LED bulb in place.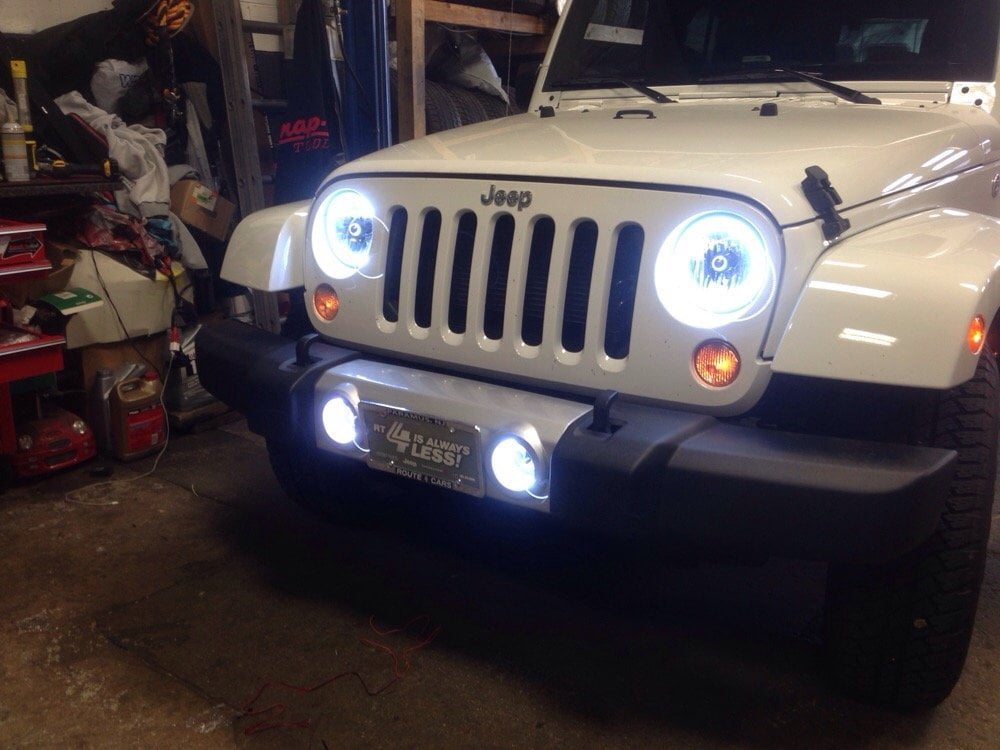 Blacked Out Lights
DIY Cost – $20-60
Professional Cost – $70-100
Skill Level – Easy; this job doesn't need special skills, only attention to details.
When it comes to small modifications, blacking out headlights and tail lights takes the lead. This simple, inexpensive upgrade changes the look of the Jeep Wrangler completely. You just may have to check your state law to be sure you can do this upgrade without paying for it with a ticket.
This modification can be accomplished by replacing the light assembly with a tinted one, which is the more expensive option; or you can buy a tinted film, which goes over the assembly and within minutes changes the look of the whole car. If you want a cheap modification that will get the most attention, black out your lights.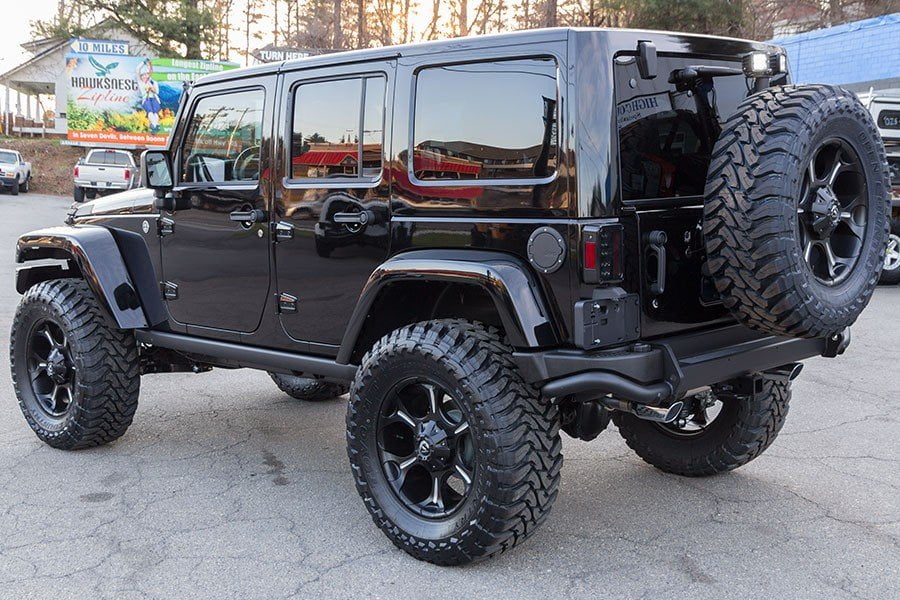 Aftermarket Fuel Door
DIY Cost – $60-120
Professional Cost – $100-170
Skill Level – Easy; this job requires basic skills and tools.
Nothing screams "tank" more than a rugged, aftermarket fuel door. Although it is such a small area when looking at the big picture, sometimes that's all you need to emphasize the ruggedness of your Wrangler. There are tons of aftermarket fuel doors, all of which come in a variety of shapes, colors and prices. Based on your taste, you can add that extra touch that will complement the exterior of your Jeep. Aside from the great look these fuel doors add, some of them come with a key to avoid gas stealing, and with today's gas prices, that's an investment.
Installing these fuel doors can be easy depending on the one you buy, so read up on the specific brand that interests you. If you feel like you're up to the task, take your Jeep to the next level with this mod.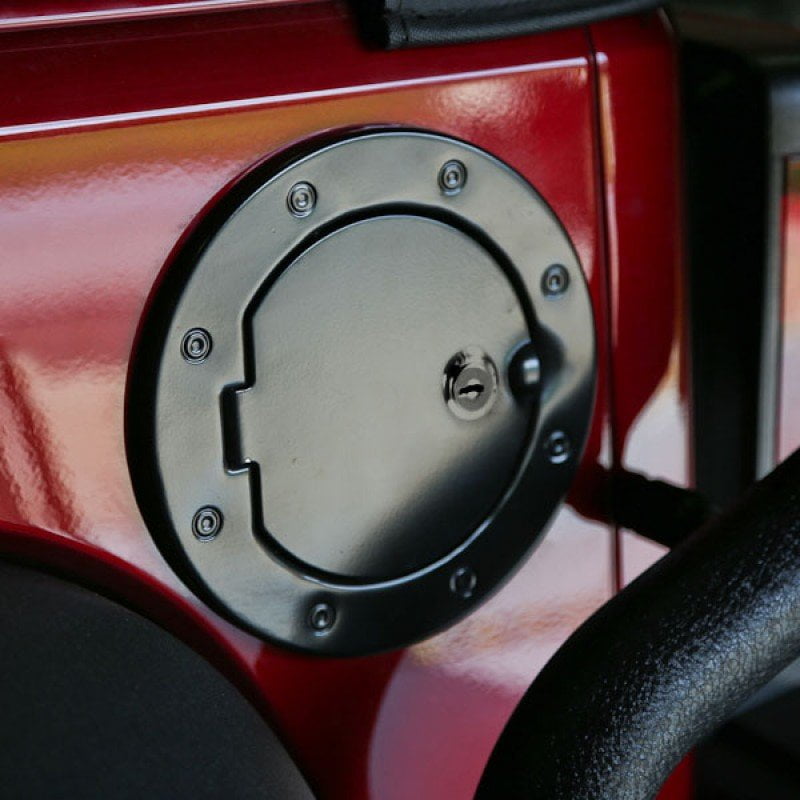 Painted Interior Freedom Top
DIY Cost – $30
Professional Cost – $150
Skill Level – Moderate; Painting the hardtop is not easy and requires previous painting skills.
The freedom top comes from the factory in a white color, which makes the interior look a bit cheap. Painting it changes up the stock look of the interior. Some people like to add some texture to it, while others like basic paint. If you feel more creative, you can paint it any color you want.
Even though painting with a spray can might look easy, the inexperienced painter can make the final product look cheap and sloppy. Since there is a technique to good painting, it's recommended you take it to a shop. However, if you decide you are up to the task, don't forget to remove the top and paint it far away from the Jeep; you don't want to inhale the paint and/or get it all over your car.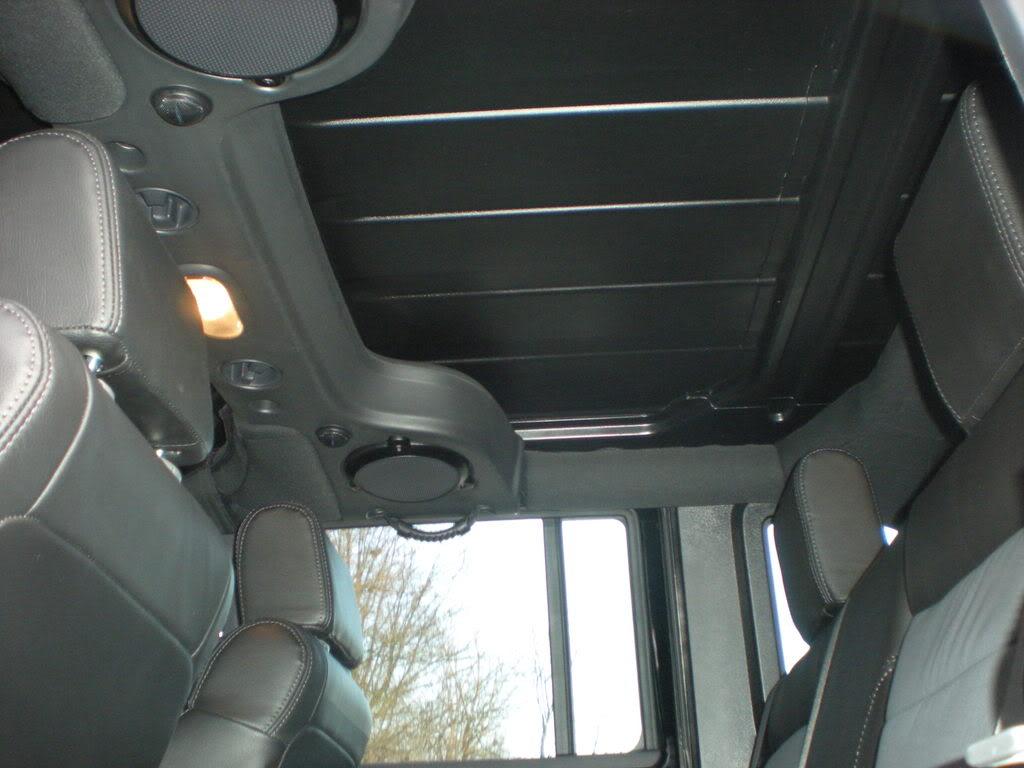 Air Compressor
DIY Cost – $80
Professional Cost – $200
Skill Level – Moderate; this job requires fitting an air compressor under the hood.
Adding an air compressor under the hood may not change the looks of your Jeep, but it is the most beneficial modification on this list. This $80 compressor allows you to add air or get rid of air from the tires, depending on your off-roading needs. So if you need to get rid of air to do some sand dune off-roading, you can feel free to do so knowing you will be able to fill it back with air for the drive home.
This job requires some skills to get the compressor into the engine compartment and running; however, once it's in, you will feel safe knowing you always have air when you need it.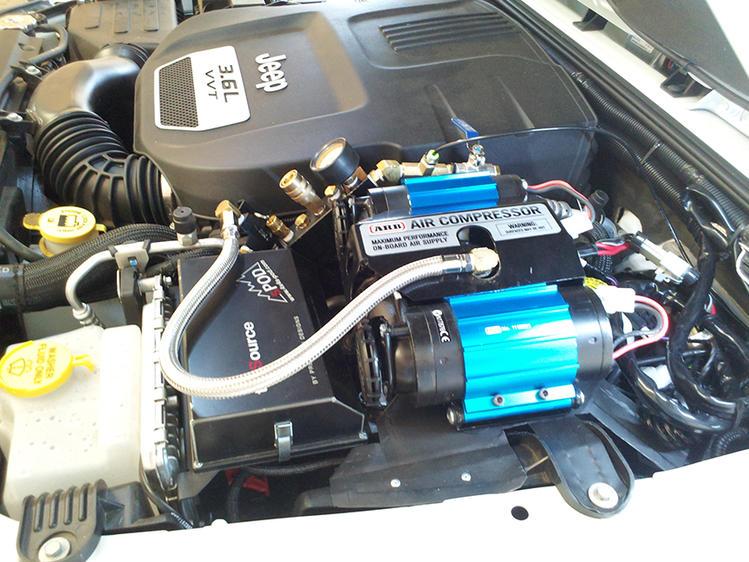 Related Discussions